Make a Donation
Make a Donation!
We set a Fundraising Goal of $10,000. So far donations total $10,940, so we made our goal! Let's keep going!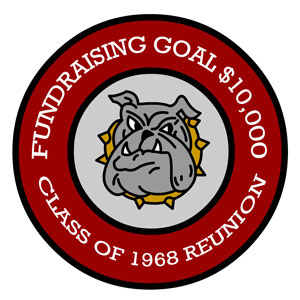 You can help put the Greatest Class of '68 reunion together and help other classmates to be able to attend.
We have designated gift levels ranging from Bulldog to Principal. Donations will be posted here and announced at the reunion dinner.
Bulldog - $50.00
Miriam Harrington
Jeanne S. Nelson
Frances Pampeyan
Russ Orrell and Debbie (Ballantyne) Orrell ($40)
Craig G. Harriman ($20)
Carolyn J. Gray
Donna (Clark) Goode
Dave Ungerer ($56.80)
Gary Weir
Junior Varsity - $75.00
Varsity - $100.00
Ernie Posey
Philip Denslow
Fred Cummins
William & Rosalie Messersmith
Katie S. Hendren
Eli Roth
Gary Hesse
Margo (Feinstein) Connolly "In memory of Walt Girdner, our Campus yearbook advisor"
Barbara (Stewart) Mogel
Gayle (Felberg) Cain
Pat McGuire
Anonymous
Charles & Kathrine Cockerill ($150)
William E. Cameron
Stephen R. Foster & Susan M. Foster
Ronald A. Coleman & Jean K. Coleman
Michael S. Baker Trust in Memory of Marian Baker
Jeff Cain ($136) in Memory of Bev (Pickett) Cain
Christine & Scott Crowe
Katharine (Stoops) Winter "In honor and memory of Colleen Stone and Dave St. John
Randall & Carol Huth
Head Coach - $200.00
Anonymous "In memory of Dennis McCurdy"
Loretta (Packard) Luskin ($250)
Michael & Shelley Blumenfeld
Marc Minovitz
Judith (Cox) Gottfeld
Larry & Melina Michaels "In memory of Mike McComb and Mark Ghibillini"
John E. Jackson
Camay (White) Arad ($250)
Susan L. Morgridge
Stephen R. Jones and Debra M. Jones
Stephen Acker
Doug & Debra Bray ($268)
Marleen (Ward) Quandt and James Quandt ($300)
Wyatt & Marie Dietrich ($250)
Rodney & Sue Potter ($250)
Lance & Nancy Smith ($268)
Judd Killmnik ($250)
Dr. Roberto Palma "In memory of Rene Varas"
Barry Chisholm
Counselor - $500.00
Modie Katz
Clay Werts
James M. Hughes
Anonymous
Terry & Barbara (Brandstetter) Ower
Ronald Piller
Mark & Susan Connal ($568)
Vice Principal - $750.00
Principal - $1,000.00 or more!
Make your check payable to P.H.S. Class of 1968 and mail it to:
P.H.S. Class of 1968, 2212 Paseo Court, Las Vegas NV 89117-2758
If you want, we can list your donation as coming from a business, or in memory of someone. Just let us know.
Thanks!